Testimonials

Here's what customers are saying about Strictly Entertainment:

"Thank you so much for making our wedding so amazing. People are continuing to compliment us on what a great party it was and we know it was because of our great DJ. Adam and I and our families all enjoyed ourselves tremendously. There were people there who apparently never dance and they still got up on the dance floor! It was a better night than we could have ever asked for. Thank You !!!" - Carolyn & Adam Skrodzki (and families) - The Fountains at Walkill Golf

"Thank you so much for your part in making our wedding perfect. All of your help leading up to the wedding with music editing and playlists was extremely helpful. People have been telling us that ours was the best wedding they have ever been to. We know how much entertainment can make or break an event and you made ours a success. Not to mention how much easier it was for us to have one company handling our music and entertainment from the ceremony all the way through the last dance. Also I cannot express enough appreciation for all the little extras you do. From the lighting , to the party favors, to the confetti shower, it made our wedding special and unique. Not to mention the GREAT photos we have as a result. We have no hesitation recommending you to anyone looking for great entertainment. Thanks, you did a wonderful job and we look forward to working with you again." - Aimee & Ryan Swan - The Villa Borghese

"Thank you so much for being a part of our wedding celebration. You did such a wonderful job on the music & lighting. It was all perfect. All of my guests had such a great time thanks to you." - Carine & John Rooney - The Eagles Nest




DJ Gary handing out party hats
"Thank you for making our wedding an incredible event. We could see by watching our video that everyone was having a great time. Please feel free to use us as a reference for future couples." --Jon & Itza, Kuhl's Highland House

"I just wanted to thank you for doing a fabulous job!! Everyone loved you and said you did a great job. I'm sure you could tell by all of the people dancing!! Please feel free to use us as a reference." --Alisha & Rich, Villa Borghese

"Thank you so much for # 1 making us feel secure on the day of our wedding - despite 27 inches of snow, I had complete faith that you would be there and you were. And # 2 giving everyone the energy, excitement, and fuel to dance the night away. I have heard from many that it was the party of the century - so thank you for giving us an unforgettable wedding." --Ursula and Ed, The Holiday Inn, Suffern, NY

"Thank you for the wonderful job you guys performed. You did an outstanding job. Thanks again for being part of our special day. We will definitely be recommending you." --Aaron & Shannon, The Brookside Manor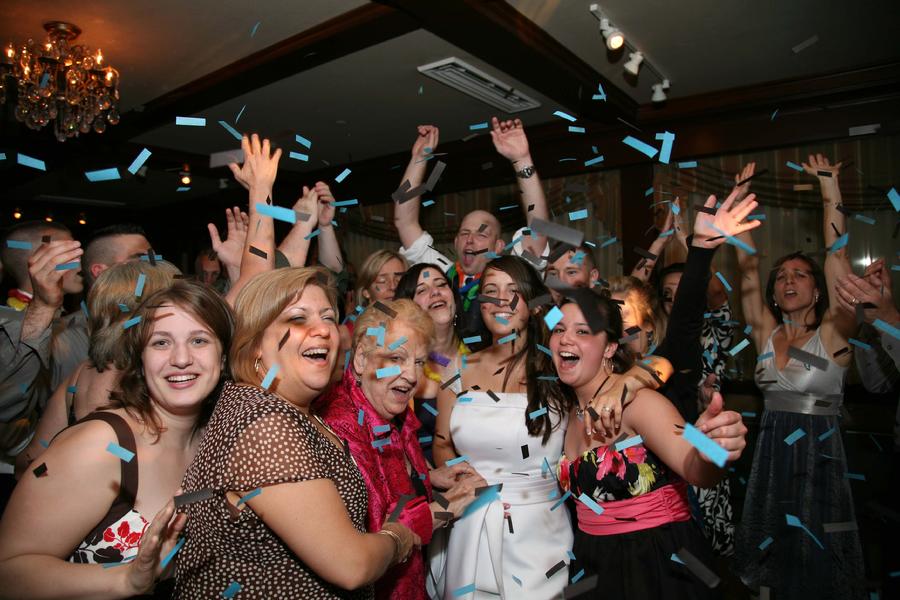 West Hills Golf Course / Photos by Cheryl
"I just want to thank you for the great time we had at our wedding. The music was great. My whole family loved all the music you played. If there is ever another family function that needs music you will be the first person I call, thank you." --Melissa & Daniel Key, The Eagles Nest

"Gary dj'd our wedding on October 8, 2005, he did an awesome job. We have heard from many of our guests that our wedding was a blast and we know that Gary played a huge role in setting the tone! Before we were engaged we were guests at a wedding dj'd by Gary. We both realized that he was the best DJ we had ever heard. One of the best parts of our wedding was the fact that people were on the dance floor from the beginning of the reception right up to the very end. Gary also included all of our special requests! We highly recommend Gary!. He is personable, reliable, and great at what he does!" --Cheryl & Peter - Walkill Golf Club

"Thank you so much for being a part of our wedding day. We both had a wonderful time and many of our guests have told us they did as well. Not only did you play a variety of music that everyone could enjoy, you interacted with the guests and had them up dancing all night. We especially liked how personable and reliable you were from the very start. We hope to work with you again someday." --Jason and Melissa - Walkill Golf Club
"I just wanted to thank you for making my wedding so wonderful. Everyone had a blast especially Jason and I. We are grateful for your services and help. Please feel free to use us as references." --Bridget and Jason - The Eagles Nest
DJ Gary and DJ Elizabeth, Villa Borghese bridal show

"Thank you very much for your help and professionalism leading up to and during the wedding. We had an amazing time and truly appreciate all you did to make it a wonderful party! We highly recommend your services to anyone looking for an awesome DJ. Thanks again." - Lauren & Rick Boccard - The Roundhill House.

"My husband and I hired Gary Whitaker to DJ our wedding reception. Gary was friendly, prompt, organized, and professional. He was willing to work with our unique music tastes, and used creative ideas to blend our music with popular dance music. My husband and I appreciated his down to earth personality and his ability to get along with all types of personalities. We would recommend Gary and his assistant Jim at your event." Jillian & Brian Booth - Anthony's Pier 9



"We want to thank you for the wonderful entertainment you provided at our daughter Elizabeth's wedding, you rock!!" - Barbara & Frank Macri for Elizabeth & Matthew Daily - Poughkeepsie Grand Hotel

"I had to write to say thank you so much for the awesome reception. You guys were great. Whenever someone asks if we know a DJ you are going to be our recommendation. Our guests were so happy with the music and we received so many calls with compliments to a great party." - Vannessa & Anthony Urrutia - Anthony's Pier 9

"I just wanted to say thank you for doing such a fabulous job at our wedding last night. Everything went so smoothly, and we loved all the music that you played. And thank you for accomodating our personal music selections as well. Both Jean Marc and I were thrilled, and our guests complimented us on the work you and your partner did." - Elissa & Jean Marc Favreau - Bedford NY




DJ Jim and DJ Gary at The Eagles Nest
John & Carine at the Eagles Nest / Photos By Cheryl

"I am so glad we chose Strictly Entertainment. They did a wonderful job. everyone had a lot of fun and the music was great. If I ever have a need of a DJ again in the future, I will call Gary." - Kimberly & Jason Landau - Meadowbrook Lodge

"Our experience with Gary was great, from the beginning right through the end of the wedding. He worked with us throughout the entire process, even with the long distance. We had such a great time with our family and friends, due in large part to Gary. Our family and friends still talk about how much fun they had and how great our DJ was. Thanks for everything." - Erin & Christopher Murphy - Mountainville Manor

"Choosing Gary for our entertainment for our July 7th wedding was the best decision we made. Leading up to our wedding day Gary was quick and efficient with responding to any questions we had, whether by email or phone. Our reception was genuinely a party - it was amazing ! Gary kept our dance floor full - we and our guests did not stop moving the entire night. Everyone commented that our wedding was the best and the most fun they'd ever been to because of the DJ. We have absolutely no regrets and give him our highest recommendation." - Gabriela & Sean Rooney - The Cortlandt Colonial

"I just wanted to thank you again so much for the fantastic job you did at my wedding. Mike and I were both so happy that you made our special day even more perfect. Everyone keeps telling us how great you were. We had a blast. I had only heard wonderful things about you and you were everything everyone said and more." - Jennifer & Mike Miozzi - The Grandview

"Thank you so much for the incredible job you did at our wedding reception. The timing and selection of the music you played created the atmosphere we were hoping for at our reception." - David & Tammy, Meadowbrook Lodge.



Kathryn & James at The Grandview / Photos By Cheryl

"Thank you for making our reception such a blast. All of your music choices were fantastic and added to our wonderful day!!. I also know that everyone enjoyed your music no matter what their age!!. Thank you for being so prepared and organized you made it so that I didn't have to worry about anything. Thank you for everything." - Eileen & Patrick Heiney - West Point Officers Club

"We wanted to thank you for the amazing job you did. I know our song choices were a little different but you handled our requests with professionalism and accuracy. All of our guests were commenting on the music and how exceptional it was (which really is you). Any referrals we can give verbally or written, we would be glad and proud to! Not only are you exceptional at what you do but you have the dynamic personality to compliment your talent. Thank you again for everything!" - Jamie and Rich, Inn at Central Valley

"DJ Gary had the best personality of all the DJ's we contacted. He did a great job trying to find out what we wanted for our wedding. We didn't have to worry about anything during the wedding because Gary had it covered. Gary is very talented and professional. He is a good guy and you can't find anyone who beats his prices for this quality work." - Robert & Donella, Villa Borghese

"Paul and I just wanted to thank you for your DJ services at our wedding. You were excellent. Both Paul and I had a great time. You played a great selection of songs. The dance floor was rocking all night. The bubble machine, giveaways and confetti blast just made the night even more magical. The pictures our photographer took during the last dance with the confetti coming down were priceless." - Bernadette & Paul, Inn at Central Valley



Strictly Entertainment is proudly recommended by and highly recommends the following Hudson Valley wedding
professionals:
Winding Hills Golf Club

The Lippincott Manor

Kuhl's Highland House

Honor Haven Resort

The Eagles Nest

Secret Garden Florist & Gift Shop

Alan Levine Photography





The Fountains / Walkill Golf Club

Igor Lacertis Photography

Mandon Photo & Video

Chalet On The Hudson

Larry & Brooke Moore Photo

Elegant Images Photo

Photos By Cheryl

Hudson Valley Officiants



| | |
| --- | --- |
| Strictly Entertainment's props and party giveaways help to create a memorable time and enhance your special event. | DJ Gary will help you select music for the bouquet toss and all the other special events at your wedding. |
Strictly Entertainment has also performed at the following venues:
Belle Caterers

Beekman Recreation Center

Bernies Restaurant
Borea Elementary School
Capucinos Restaurant
Christos
Colden Manor at Spruce Lodge
Colonial Terrace
Cortlandt Colonial
Dianna's Restaurant
Duck Cedar Inn
Dutchess Manor
Erhardts, Hawley PA
FEAST at Roundhill House
Fibbers
Glastonbury Hills Country Club, CT
Glenmere Mansion
Harness Racing Museum, Goshen NY

The Shawnee Inn, PA





Holiday Inn - Middletown NY

Holiday Inn / Clarion Hotel - Newburgh NY

Holiday Inn- Mt. Kisco

Hotel Thayer

Inn at Central Valley

Inn at Hunts Landing (PA)

La Mirage

Links At Unionvale

Elks Lodge

Minuteman Restaurant

Mountainville Manor

Millcreek Caterers


Nicoles

Novellas


Orange County Golf Club

Orange County Park Arboretum

Otterkill Golf Club

Patriot Hills Golf Club

Pocmont Resorts

Riverview Inn




Sheraton Hotel at the Crossroads

Silvios Restaurant

Stonehenge Restaurant

The Belvedere Mansion

The Ethan Allen Hotel (Danbury, CT)

The Mercury Grand Hotel

The Regency House (Pompton Plains, NJ)

The River Grill

The Staaten

The Surf Club

The Tides, N.J.

The Villa Barone

The Villa Roma
The Villa Borghese


The Waterview

V.I.P. Club

ValleyBrook Inn

West Point Officers Club




Call or email DJ Gary Whitaker for further information:



845-726-3667




djgary22@hotmail.com




Visit Strictly Entertainment and/or Gary Whitaker on

Facebook
Strictly Entertainment: We do more than play great music, we entertain.